This passed Sunday I got a chance to head out on a hike that I've been wanting to do for a few weeks. Just south of Maynooth in Leixlip the Royal Canal crosses the Rye Water with an aqueduct. It sounded like a neat place to walk, and I really enjoy the walking along the canal and I still want to see a Kingfisher, so off I went.
I left my front door on foot and headed down Carton Avenue, through town and towards the canal near the Maynooth Harbor. I cut through the parking lot, I mean car park, of the local SuperValu when I noticed some small birds fly into the top of the tree. I looked at them through my binoculars and couldn't believe it, Goldfinches, the first ones that I've seen in Ireland.
Goldfinch - Maynooth, Co. Kildare, Ireland
What a great start and I hadn't even reached the canal yet. They flew off and I continued on my way. I reached the canal and started my way south along the old towpath. Here's an interesting aside, during a tour in Dublin the driver/tour-guide told us that "toe the line" is actually "tow the line" and referred to horses looking straight ahead and pulling their loads down the canal.
I saw the usual birds along the canal. Some Great Tits, Blue Tits, Song Thrushes, Wrens, House Sparrows, Jackdaws, Rooks and Magpies. Here is a female Blackbird, who looks like it's eating a crab.
Blackbird - Co. Kildare, Ireland
There were loads of Dragonflies and Damselflies about. There was a large, Greenish Dragonfly with amazing gold wings, but I never got a chance for a photo because they never landed near me. But there were lots of these bright Common Blue Damselflies around and I saw more than one pair mating.
Common Blue Damselflies - Co. Kildare, Ireland
There were many butterflies about too, this Tortoiseshell was nice to see.
Tortoiseshell Butterfly - Co. Kildare, Ireland
Just before the Canal makes a turn to the North, and towards the aqueduct, in Leixlip, I saw a pair of Barn Swallows who were sitting on a wire long enough or me to get a photo of them.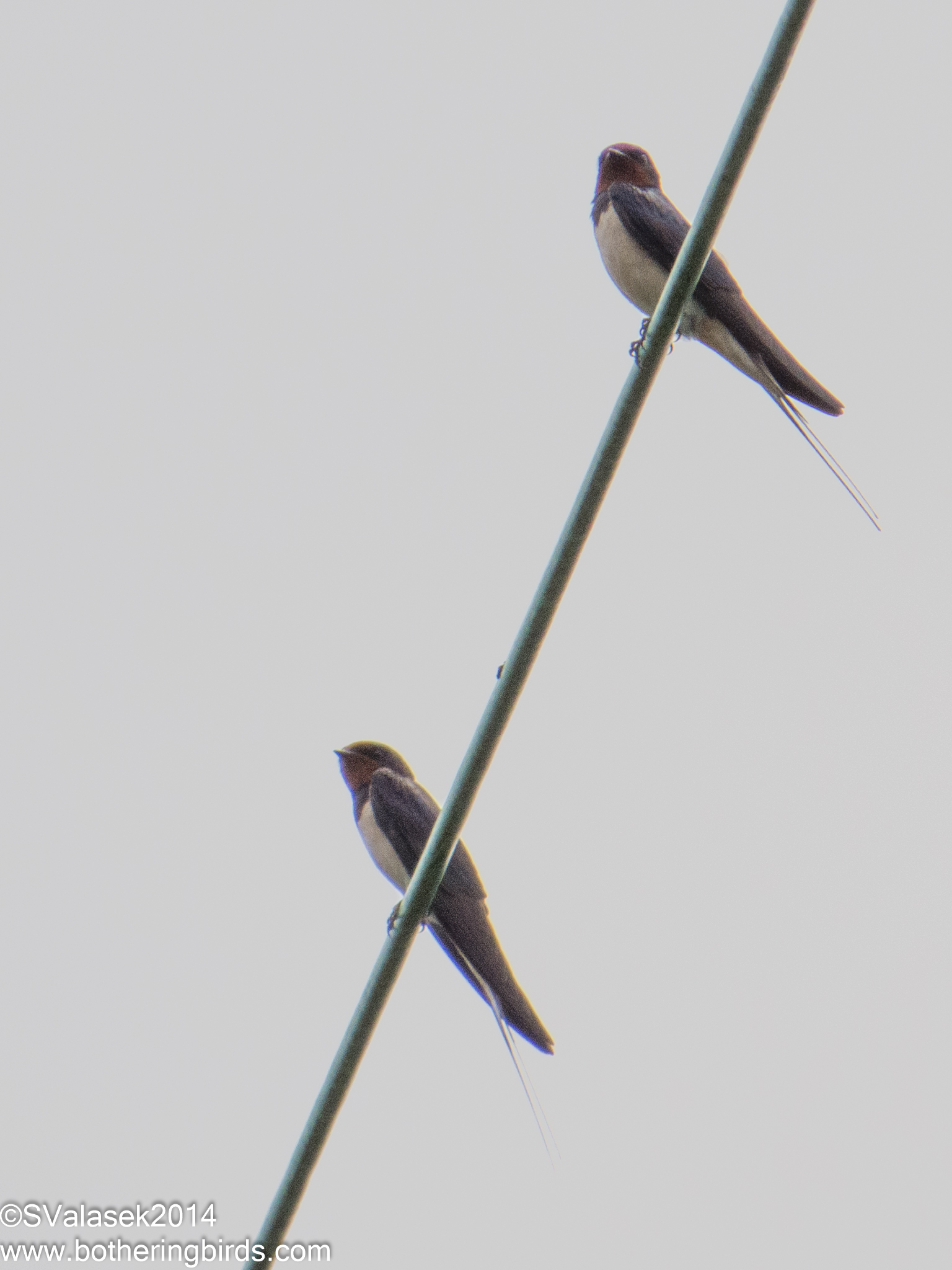 Barn Swallows - Co. Kildare, Ireland
To be honest, there wasn't many chances for nice bird photos. I'm still missing my DSLR system and thinking of a way to replace it before next year. But I also never saw a Kingfisher along the canal that day. But I did get to the aqueduct about 8km from my front door.
The aqueduct was built in the 1790s and at the time was the biggest construction project in Europe. It's basically an earthen dam with a tunnel for the Rye River and the canal running across the top, and now railroad tracks. Overgrown trees really cut down the view, but the large Intel factory was easy to see to the west. I made may away across the top and decided to explore the Leixlip Spa area at the bottom of the far side. I saw more Blackbirds there and a small bird off in a tree. I managed to get a quick glance at the head and saw a bright yellow-stripe, it was a Goldcrest, another lifer, but never sat still long enough for a photo.
I decided to get home an alternate way and walked to the nearby train station and caught a commuter train one stop back to Maynooth.
I chose the train over the bus so that I could walk by the Maynooth Harbor and a car park in town that is very birdy. I got lifer Bullfinches there and it seems to always be busy, and today was no different. I saw some Pied Wagtails and House-Martins. But a bright blue color caught my eye. A Blue Tit was in some trees and let me stand there and watch it preen for a few minutes right in bright sunlight. Conditions for my camera couldn't be better and I got the photos to prove it.
Blue Tit - Co. Kildare, Ireland
And on the other side of the car park I saw 2 Spotted Flycatchers working an ivy-covered wall.
Spotted Flycatcher - Co. Kildare, Ireland
By the time I made it back home my phone told me that I had walked a bit over 10km and saw 26 species, with 2 lifers, but still no Kingfisher or Buzzards. And all with foot power or public transit, so maybe a zero carbon day.
The weather is supposed to be turning rainy tomorrow, but I'm still hoping to get back down to Coronation Plantation and maybe meet up with my friend Paul at the coast (and to get my camera's battery charger back). I've been taking the kids to the Dublin zoo about once a week and have some photos of the wild birds that we see there that I may turn into a blog post. The zoo itself is pretty nice, but big, and we've already become members.
Cheers!