I started writing about my families trip to Portugal h
ere in my previous post
. That post recalled the guided birding that I did Saturday morning with a local guide, Georg Schreier. Without getting too far from Faro we were able to see 83 species, 37 of those being Lifers for me.
Just after noon we stopped by the beach for some pizza and coffee. While sitting there we were able to watch Northern Gannets diving just off the coast. And then I spotted a pod of dolphins swimming by just off the coast. We had 2 choices for the afternoon, head West to the Cape of St. Vincent, the most Southwesterly spot in all of Europe, or north into the steppe of Alantejo. At the Cape we could see raptors and maybe vultures on migration, while up north Bustards and Sand Grouse. The Great Bustard is the heaviest flying bird on the planet and a species that I was eager to see if I could. Georg checked in with a friend at the cape and the word was that it was a very slow day, so we decided to head north.
After almost an hour of driving, some on the motorway and some through some small towns, we arrived at open farmland. Just before we got to the area where Great Bustards might be spotted, we stopped along the road so that we could get our binoculars on and other gear situated and stretch our legs a bit. There were also Southern Grey Shrikes sitting on wires, another lifer for me. I turned back towards the car and saw a large pair of wings just behind Georg, I yelled for him to turn around thinking that it was a Buzzard. But it wasn't, it was a Great Bustard.
Great Bustard - Alantejo Portugal
I had read how skittish and hard to see they were. That if I were lucky, I'd see one a few hundred meters away through a scope. Well here was one about 70 meters away, and then we saw a second one with it, a smaller female. Great Bustard males may be the heaviest flying birds with wingspans near 8 feet, but the females were typically only a third of that size.
Great Bustards - Alantejo, Portugal
As they walked off and over a nearby hill, I spotted a corvid sitting out on a post, a Carrion Crow and my 3rd lifer in just a few minutes.
Carrion Crow - Alantejo, Portugal
We continued on our way to where we expected to see Great Bustards and maybe some Sand Grouse if we were really lucky. My hired car was a Nissan SUV, who's name I won't even try to spell, and had the clearance to check some areas that Georg had a difficult time getting to. We drove through a gate after talking to a friendly farmer and spotted more than a few Northern Lapwings. And then we saw a small bird sitting on a post. Georg asked me if I recognized it and I did immediately, although had never seen one before.
Northern Wheatear - Alantejo, Portugal
I had been looking for this bird all over Ireland with no luck. There was also a rare one in New Mexico right after I left. Friends of mine had seen them in Pennsylvania and Ohio, but I couldn't see them where they bred, it was my recent Nemesis bird. But here in the middle of nowhere was a Northern Wheatear. And as this things usually go, I'd see a few more after seeing my first.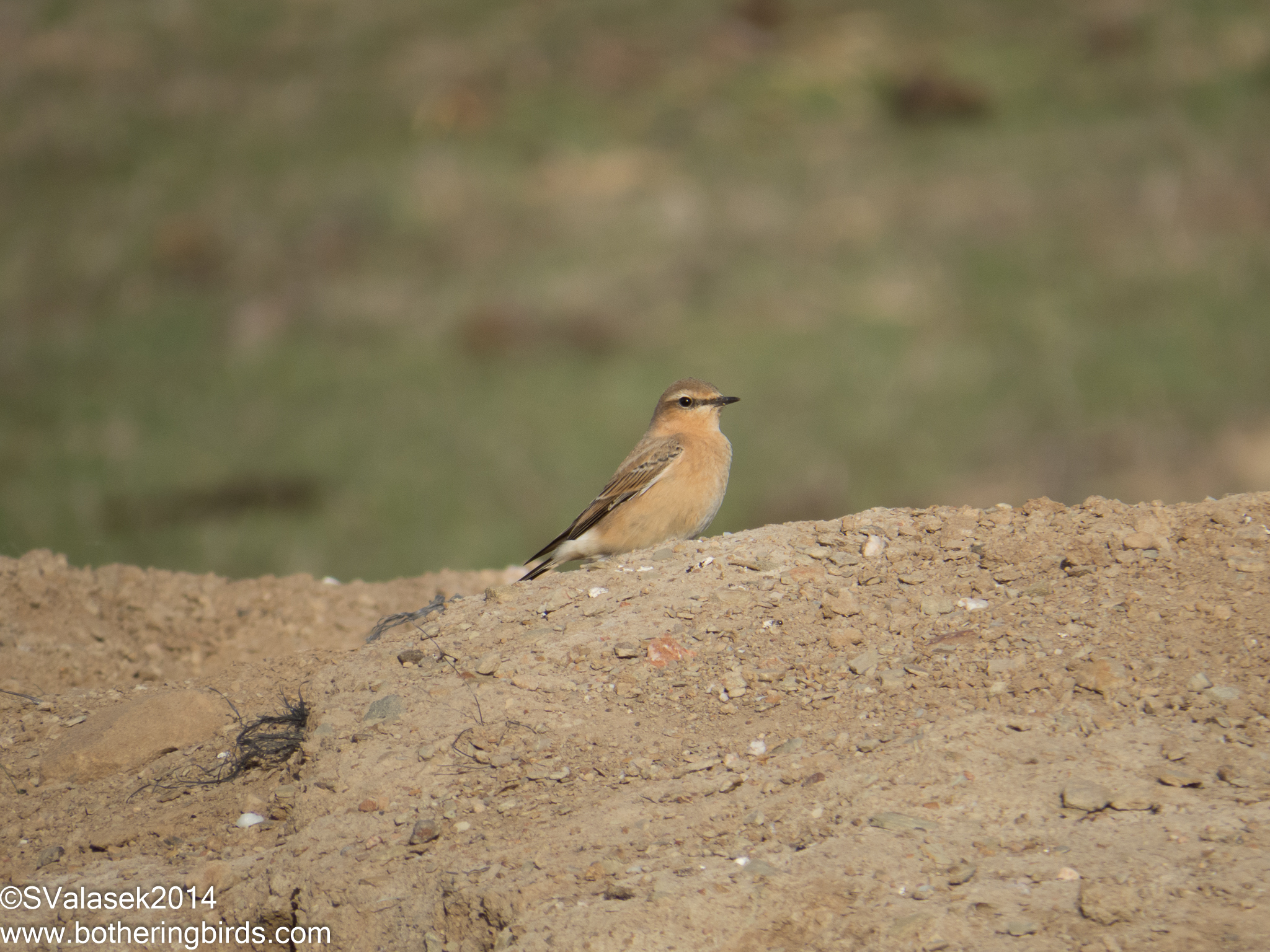 Northern Wheatear - Alantejo, Portugal
We stopped again a short while later to scan the fields for any more Bustards and spotted another pair far off.
Great Bustards - Alantejo, Portugal
They flew off a bit further and were soon joined by another pair. And then another pair. Georg suggested that we sneak up to some rocks and see if any more where still there.
Great Bustard - Alantejo, Portugal
Great Bustard - Alantejo, Portugal
What beautiful birds. Sort of like a miniature Ostrich or maybe a land-goose. I managed to get a few more shots before they flew off, and it was as great to see them fly as I thought that it would be.
Great Bustards - Alantejo, Portugal
We saw some raptors out there in the Steppe too. Some Red Kites, Black-Shouldered Kites, Kestrels and some Common Buzzards, including this one, which is my first good photo of one.
Common Buzzard - Alantejo, Portugal
We never saw Sand Grouse, but we did manage to see almost 20 Great Bustards, more than I had hoped to see. I drove us back south towards Faro and then Georg and I parted ways. What an amazing day. I know that if I would have gone out by myself that I would not have nearly the day that we did, 90 birds and 42 lifers.
I was up early the next morning and my wife and kids were still sleeping, so I decided to walk around the hotel grounds and see what I could see. I was watching some Sardinian Warblers on the other side of the fence from the pool area and trying to get a photo of one, but they were flying around way too fast. But I noticed a bird fly up and land on the cliffs below me and land. It was a Kestrel out hunting along the cliffs.
Eurasian Kestrel - Albufiera, Portugal
After everyone else woke up and we had breakfast, we went out to see some non-bird sights. We visited some Roman ruins from the 3rd century and saw some really amazing mosaics that have held up fairly well. Then after lunch we were scheduled for a boat tour along the coast. My wife really wanted to see some dolphins while we were there and this was our best chance.
Once we were out on the water I pointed out some Northern Gannets that were diving into the water. My daughter was watching them and then we started cheering every time they made a splash, and soon I had the entire upper deck of the boat watching and cheering too. There were quite a few Gannets around, including some immature ones.
Northern Gannet - Algarve, Portugal
But I was looking for something else. I knew that we weren't going out far enough for anything too amazing, but I was watching every bird that I could see. Finally I saw a dark shape, that looked like a gull on steroids. Through the binoculars I could see a brown bird with tell-tale white edges to the wings and I actually let out a loud cheer, it was a Great Skua. Another bird that I had always wanted to see.
Great Skua - Algarve, Portugal
I would end up seeing 3 or 4 others on the trip along with lots of gulls, Yellow-Legged and Black-Headed in the majority, along with a Mediterranean sprinkled in.
Here's a view of the coast from our boat, what a great time.
Albufeira from the sea - Algarve, Portugal
Once the boat returned to port I was done birding for the next day and a half. We decided to not go north to Setubal and stay an extra day and a half in Algarve and then go to Lisbon the day before our flight and visit the large aquarium there. We also planned to stop at the Sado Estuary on the way to try and again see dolphins, there is pod which lives there year round. But we ended up missing our exit and turning around would have added too much time to our trip. Instead, we decided to stop by the Tejo Estuary just East of Lisbon. Little did we know that it is really far into rice fields on dirt roads. But we did make some nice discoveries.
I saw my first Great Egrets in Europe in what may have been a union meeting for waders, or maybe a birthday party. But a sizable group of Grey Herons, Great Egrets and Little Egrets were in the same spot.
Great Egrets, Little Egrets and Grey Herons - Tejo Estuary, Portugal
There were many raptors about too. I saw Merlins, Buzzards, Osprey, another Black-Shouldered Kite that dove down right next to our car, and Kestrels, including this female sitting on a fence post.
Eurasian Kestrel - Tejo Estuary, Portugal
We eventually discovered a large building in the middle of the fields, the
EVOA center
. The center consisted of a visitor's center and snack shop, as well as a series of ponds and hides. Admission came with a guide to take you all the way out to the estuary proper. Due to a time constraint, my wife and I were the only ones to go out for a walk while my kids and our friend ate lunch inside. The majority of the birds were Wigeons and lots and lots of Lapwings with some Little Grebes and Black-Winged Stilts around too.
EVOA Wetlands - Tejo Estuary, Portugal
Apparently we had missed the Avocets and Purple Herons which had already left for the season. I also didn't get to see any of themany Bluethroats that were ringed there. But the best animal that we saw wasn't a bird at all, but a mammal.
Egyptian Mongooses - Tejo Estuary, Portugal
My wife and I came around a bend in the trail and saw 3 animals wrestling around. I had no idea what they were. They saw us and took off into the brush. But it wasn't until later that we discovered that they were
Egyptian Mongooses
! An animal that is found only in certain locations in Europe.
We finally met up with our guide just as we had to turn around. He was very informative, but mainly had bad news in the way that the birds I most wanted to see were already gone. But he did tell me where I could find Little Owls. Apparently it was odd that we didn't see it on the way in. But he described where to look on our way to Lisbon. We said our goodbyes and set off to the Oceanarium in Lisbon.
We found the location where the Owls were supposed to be and stopped to look around. They were supposed to be standing on buildings or fence posts, but I din't see anything anywhere. But then I saw some eyes looking out at me from under a roof.
I was immediately reminded of Burrowing Owls from back home. But these live in nooks and crannies instead of holes in the ground. My guide from earlier in the trip said that they liked to nest in piles of rocks in farmer's fields, stacks made when the fields are cleared. Unfortunately, I was the only one in the car who spotted this guy, because as soon as we backed up and my wife and daughter got out of the car, a truck full of farmers drove up and scared the owl away. At least I got one photo before that happened.

All in all it was a great trip. I'd like to go back in the summer next year to see the birds that I missed, and to explore the great history of the country. Plus I never got a hat made out of cork. But in basically 2 days worth of birding I managed to see 99 species and get 44 lifers, including most of the species that I wanted to go there and see, Flamingo, Hoopoe, Great Bustard and Little Owl, with Great Skua being a very pleasant surprise.